Crispy and juicy tonkatsu, cooked at low temperature.
Vol.1
Narikura
Owner: Seizo Mitani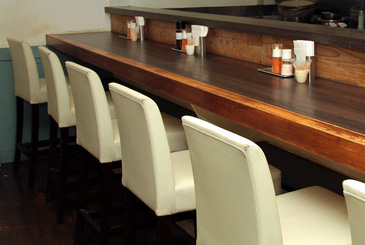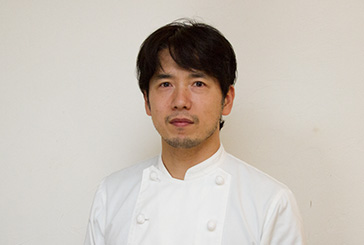 The flavor of tonkatsu changes depending on the meat selected
and the different cooking methods. The owner from "Narikura" in Takadanobaba, Tokyo,
taught us the points of his cooking. His special tonkatsu is known for its delicious pork
enclosed in a crispy exterior and is so popular that people line up for it.

Slow fry at a low temperature using a high quality lard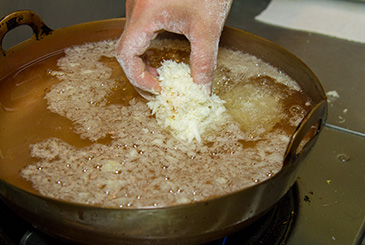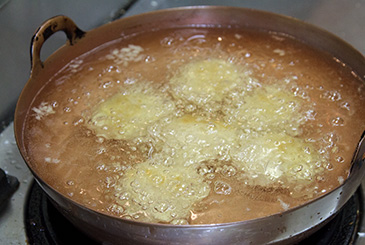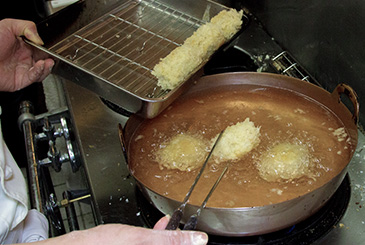 At "Narikura", we use a rare kind of lard, of which only small amounts can be found in each pig, in our frying oil.
The characteristic of this oil is that it is less likely to over boil or over cool and we take advantage
of this special quality to slowly cook the meat. This cooking process is the most important point.
When using a 3cm-thick filet of meat, we cook it for 7-8 minutes at a temperature
a bit lower than usual, around 130°C. When using a wider chop piece of meat,
we bring the temperature even lower, to around 110°C and cook it for 12-13 minutes.
The timing for when to remove it from the oil is something learned from the owner's many years of experience.
Remove it from the pot when the bubbles coming from the meat become smaller and the outside takes on a golden color.

When the meat is still "rare" remove from the oil and allow to cook with the residual heat.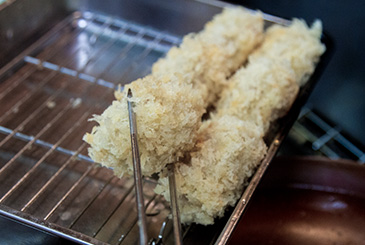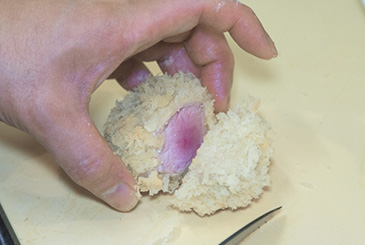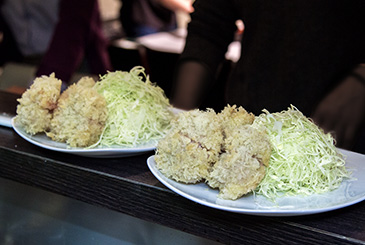 Tonkatsu just removed from the oil should still be "rare." Place it on a tray and allow oil to drain for 2 minutes.
This cooking process simultaneously allows the residual heat to pass
into the center of the meat and the oil to effectively drain from the crust.
Also, we consider the time it takes to carry to the table.
This way you can present it to the customer at exact moment
the heat has permeated the meat when the pork is a pretty pink color.
In this way the tonkatsu will be tender and juicy and the flavor will not escape.
The breading will be crispy with a light feeling, and the more you chew it the more the flavor will spread in your mouth.
The tonkatsu is finished!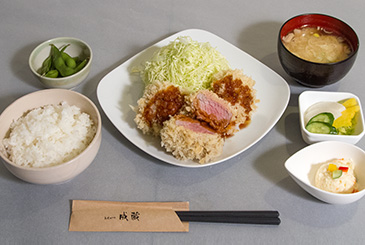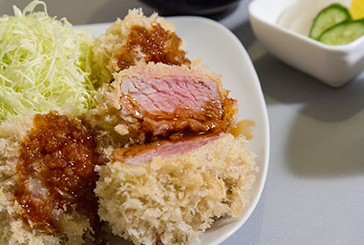 The restaurant owner's recommendation is the "Kirifurikougen Cha-ton-briand(*) (180g) set meal" for ¥2470.
It is made using the softest part from the center of the filet meat, which in beef would be called "chateaubriand."
It is a great luxury since there is only enough to make one serving in a filet that may be 20cm or longer.
Low temperature frying and residual heat finishing up make
it possible to produce a flavorful and juicy tonkatsu as much as 3cm thick.
The meat is rich in flavor and is a perfect match with the sauce.
(*) A play on the words "Chateaubriand" and "Ton", Japanese pronunciation of the kanji "豚 (pork)".